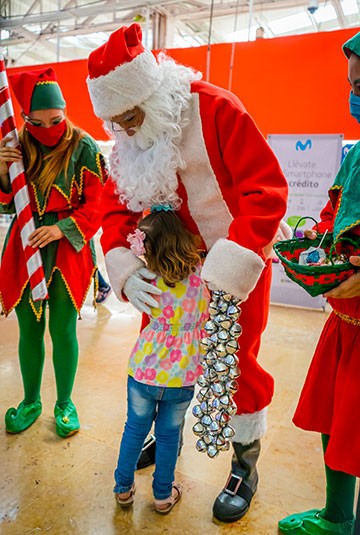 Santa Claus, accompanied by Mrs. Claus and a couple of his happy little elves, appeared thanks to his magic in the traditional representation of the birth that we have in the most traditional part of your friendly plaza, in front of De Belleza and the Maquinitas. From where he left to travel all the corners of Plaza Caracol and spread joy with the children who happily took pictures with Santa.
In our social networks you can find the photos that were taken with Santa Claus and his family. If you were lucky enough to be in Plaza Caracol on December 19th, go now and find your photo to share with your family and friends.
In the great family that makes up Plaza Caracol we wanted to carry out an activity to remind you that you, our visitor, are the most important thing to us. We know that these have been uncertain times for everyone, but the holiday season is about sharing happiness, so we do not hesitate to invite the Claus family to share hope and joy with you.
We are humbly proud of the success we had. Seeing a child smile at a surprise meeting with Santa is something worth seeing and sharing. It's worth noting that everything was done with the health measures to avoid the risk of contagion from the pandemic. In case you want to know more about our measures we invite you to visit our vision of Plaza Segura in Puerto Vallarta.