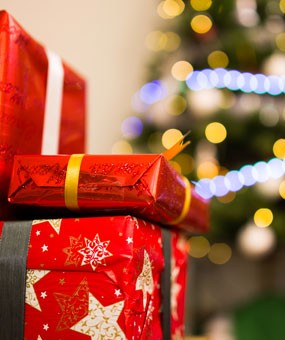 Don't make the mistake of leaving the search for the perfect Christmas gift until the last minute. Take your time and go through all the corridors of Plaza Caracol, your friend square, you will be surprised by the variety of details you can find. You can inspire someone to learn to play a new musical instrument in Producciones Estrella, give a vintage video game that you will find in GeekSpot or a shiny detail of Acero y Plata de Alma.
To get the perfect Christmas gift you can go to La Gomita, where they make your personalized gift wrapping and you can find balloons and cards to give even more love to the gift.
As you walk around Plaza Caracol you will be filled with the spirit of the Christmas holidays in Puerto Vallarta, with the multicolored decorations hanging from the stores and on the islands of your friendly plaza. Take a break from looking for Christmas gifts and enjoy the gastronomic variety: you can enjoy Chabelita Tacos or a delicious and original ice cream at Punto Paleta; or if you are into Mexican sweet treats, Chilito Mio is the option for you.
You can also anticipate your New Year's resolutions and sign up at Crossfit Vallarta, one of the most complete gyms in the whole region and take advantage of it to buy your DPORTENIS sportswear and your end-of-year sales.
We remind you that we continue to implement the health measures according to the suggestions of the corresponding authorities, we invite you to visit our ad in order to maintain a safe place.