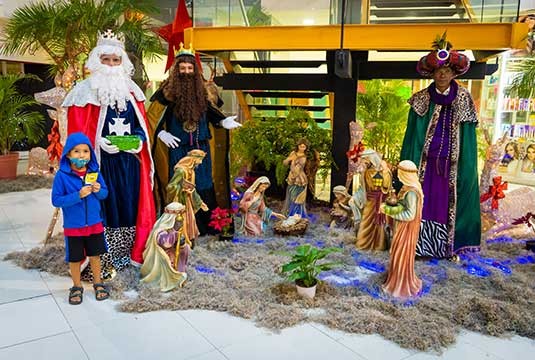 If you were there, you can visit our social networks and find your picture to share with your family and friends. Find your memory at Plaza Caracol, the most traditional shopping center in Puerto Vallarta.
For a couple of hours, the Three Wise Men were walking around all the places that make up the diverse family of Plaza Caracol, your friendly Plaza. The locals were also delighted with this joyful visit during the Three Kings Day in Puerto Vallarta.
As a good Mexican tradition, while the Three Wise Men were taking pictures with whoever wanted to, we could see many of our visitors buying the rosca de reyes that Soriana prepared for this January 6th. We know that we have to be on our guard before the current circumstances, that's why we remind you to stop by our blog about a safe square, to verify how we at Plaza Caracol care about your health in Puerto Vallarta.
We hope you were there for this visit of the Three Wise Men and enjoyed it as much as we did this king's day at Plaza Caracol. We also recommend you to visit our promotions section, to discover how our family is looking to make this beginning of 2021 in Puerto Vallarta, the friendliest thing for your pocket.